The Latest Thing of Beauty
Imagine that you are a young social worker, dedicated to finding out the hidden and forgotten old souls who haunt the cold, mean streets of the city. You seek to report on their living conditions, possibly recommending they be removed from their roach-infested "homes."
So it is that you have come to find yourself sitting at the kitchen table of a cadaverous old shut-in you've been assigned to visit. The kitchen is spotlessly pristine while the adjoining darkened living room reeks of rotting garbage.
The sun is setting. You rise to leave. You step over a cardboard barrier separating kitchen from living room, seeking the front door. But it is too late. They have risen. The old woman's many "children" are awake... and they are hungry.
...in this preview of the new Madefire Motion Book experience, Milk for The Ugly, to tell you about the two longtime deviant artists who have created this remarkable achievement in storytelling.
In any case, no prose preview could begin to do justice to the Madefire experience of shifting illustrations in a fully soundtracked narrative. Milk for The Ugly truly has to be experienced to be really appreciated.
Rarely do artists of the deviantART community exemplify the skill, creativity, spirit and sheer arts career tenacity of Anna & Kate, the deviants we profile here, who have become, singularly and when working as a team, favorites and real role models within our community.
Anna Podedworna (akreon) & Kate Redesiuk (vesner) were born and raised in similar households in Poland by similarly "overachieving" parents who wanted only the best lives for their daughters, both girls being told, "You can choose whatever you want to be in the future, as long as it is a doctor, a lawyer or an architect." Anna, being torn between natural science and the fine arts, chose a compromise in pursuing architecture. Kate was "persuaded" to choose architecture by her parents, who just happened to work in construction. Anna & Kate met over doodlings of mutant zombie bunnies at the university. Drawn together by their similarly off-kilter tastes in illustration, they eventually became roommates hooked on digital art, working on projects together.
During their time at the university they learned from one another and their roles started to slowly reverse. Ann grew to like the technical part of architecture, and Kate got more and more into art.
Anna works as a freelance artists while finishing her masters degree. As a freelancer she has worked on illustrations, comics and recently gotten into the world of fashion by working for Ewa Minge and creating a few designs series for her new brand Eva Minge Milano. Once she gets her master degree she wants to get back into architecture and continue pursuing her career as an architect.
Kate dropped out from the university just before becoming an engineer, after realizing she was living someone else's dream. She decided to become a professional artist. At first she worked as a freelance illustrator for advertising companies but has now made her way into the game development industry and works full-time as a concept artist at CD Projekt RED.
Anna & Kate are known by their deviant followers to sometimes to embody and inhabit their peculiar alter egos, "Pugbun," a bunny-eared pug dog and "Tailcat," a cat with a second head on the end of her tail.
Battles over unwashed dishes and strewn crayons have led to war between the two characters. Pugbun of Pugbunistan usually upholds the Anna banner, with TailCat of Tailcatica being a spokescat for Kate's positions.
Off-White
But it is Off-White, the ongoing adventure tale of a wolf clan on a mythic journey that has become a phenomenon for Anna & Kate as their premier collaboration. This project began as an experiment, a 5-page one-shot, but generated such a warm reception from the community that more pages were created and soon the tale snowballed into it's current six chapters. The success of the story has spun off its own group on deviantART and a product line of Off-White artwork and collectibles. What Anna & Kate have achieved here is truly an ongoing fulfillment of the deviantART community spirit put into action.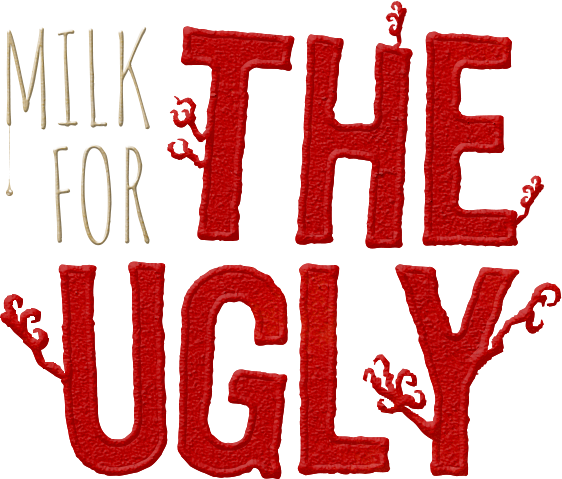 Not satisfied to rest on their laurels, Anna & Kate have now raised the bar of comic storytelling by utilizing the cutting edge comics sound and motion technology of Madefire, in which illustrated panels come alive at the tap of your device's monitor screen.
This time out, as befits the subtle movements of light and shadow enabled by Madefire, Milk for The Ugly is more twisted to the playfully macabre tastes of creators, presenting what can be enjoyed as if it were a lost episode of The Twilight Zone. But upon deeper reflection, their little story would appear to be commenting upon modern times at several different levels. In this inside-out classic children's cautionary tale, the terror in the "woods" has been transplanted to the environs of an urban apartment building. The old crone's face has been drawn to hint she might be Death him/her/its self, regenerating discarded half-eaten edibles into human-eating little monsters—making for a horrifying "cycle" of environmentally rational endless re-use.
Or possibly the darling little girl's rejection of the street hag at the tale's beginning is simply meant to raise the question of who are the true "uglies" of society? It's the sort of "instant classic" must-have story that will be returned to again and again by readers. Best of all, the creativity and stylistic artistry (especially in their characters' facial expressions) achieved in Anna & Kate's book makes Milk for The Ugly is one of the most beautiful Motion Books you'll ever experience. It will no doubt be regarded as one of the seminal issues of the "new comics."
1.As master storytellers and world builders with a wonderful and attentive fan base on deviantART; What excites you most about how Milk for The Ugly looks and feels in terms of storytelling for an audience?
Art style in comics is a great tool of conveying mood and atmosphere of the story. We were very excited to try out a different style that isn't really signature for any of us. It's creepy and grungy, but also cartoony and expressive. It's a nice contrasts that hopefully makes the story feel even darker and more eerie.
2.Can you share what you feel are the most important aspects of telling ongoing episodic stories? Specifically as it relates to cultivating a fan base?
Since internet communities became a thing there have been tons of works written about cultivating fanbases. It takes a lot of time and effort but the theory is rather simple and can be narrowed down to a few most important points.
To be successful be sure to update your story regularly, so fans have something to look forward to every one or two weeks. Stubbornness is the key here, especially with webcomics—it's hard to have a fan base with just one or two pages. The more and the better story you deliver, the more people are going to get hooked up.
Be respectful to your readers and interact with them as often as possible. Answer questions, have fun in the comments, share your thoughts, organize small contests or giveaways.
Try keeping a relatively consistent style of art and writing. It doesn't mean that all parts of the story have to have the same mood and/or art style but it's best to pick 1-3 genres and stick to them.
Or just be like us—scrap the theory, do none of the above, and hope for the best.
3.What are the essential elements of building a complex escalating story world? Order of importance of these elements?
Have a top-down approach. When imagining your world, set a few basic rules for it and start from there.
These rules can be anything from "all animals can speak with humans", through "rain raises instead of falling down" to "ghosts are real and everyone knows that."



Build your story around it and keep questioning everything."



Make sure your story makes sense within your universe. Think what would happen if your rules were the same but the story different. Always come up with more than you want to tell. The world you build is as important as your story, and can greatly enhance it. The rules we set in our stories are usually bits taken from different mythologies from around the world. We don't like to hold to them too tightly though and usually try to twist and turn them in a way that makes the stories fresh and interesting.
4.How does your process work as far as art creation and the actual writing of the story and dialogue?
Story, art, dialogues. We love telling each other stories while drinking tea. We tell each other's ideas and come up with new ones on the fly. Having someone who listens to your stories is very important. There are always plot holes and mistakes that need to be patched up or reworked, so critique is always important. If you don't have a partner to work with in a team, tell stories to your friends, family or people on the internet. After the story is ready, we sit down and come up with art sequences that could illustrate it. Rough thumbnails showing what's most important to show in a given panel are enough to plan everything out.
At this point we still don't have any specific dialogues, but rather a few important words that need to be spoken or emotions that need to be conveyed.



Only after the art for the comic is done, we once again sit down and try to figure out what would each character say in a given situation."



Would they have the time for a few sentences or would they be too shocked to say anything at all? Would they use complicated words or simple ones? In some cases dialogues aren't even needed and the story tells itself by images alone.
Milk For The Ugly Character Creation In SketchBook Pro
Kate Redesiuk shows us how to create a character for Milk for The Ugly using SketchBook Pro.
5.Do you see Motion Books online as the inevitable next level of our increasingly mobile society?
It depends. Motion Books are a relatively new medium that still needs to be fully explored. On one hand they add a new value to the traditional comics, but on the other they require much more work. They have the potential for interactive storytelling, but could also go completely opposite direction and get closer to animation. It's all up to creators, and the more motion comics we get, the greater the chance for them to grow into something unique and irreplaceable.
6.As visual artists telling a story, what is the most valuable storytelling innovation enabled by the Madefire process?
Subtle movement! A gentle nod of the head, a flinch of the body, a twitch of an eye. In traditional comics it's incredibly hard to illustrate something that ephemeral without big close-ups or repetition. The motion tool makes it very easy and intuitive.
7.Fans are most familiar with your work as a team on your wolf clan adventure epic, Off-White. But does the darkly humored Milk for The Ugly better reflect your comic sensibilities?
We're very happy that we had the chance to work on something so different to our ongoing comic, but we honestly feel quite free in all sorts of different styles and stories. Off-White is a collaboration that is quite different from both our individual works and personal comic tastes. Milk for the Ugly brought together our joined love for dark and twisted stories, but on the other hand required a more work in finding a middle ground in terms of our art styles. Who knows what the next Madefire Motion Book collaboration between us will result in!
8.Will Off-White continue for as long as fans ask for it, or until you decide your own logical end for it?
Off-White is planned from start all way to its definite end. Our fans will know for sure which page is the very last one in the series.
9.How are Pugbun & Tailcat getting along? Or is that stalemate situation best left uncommented on?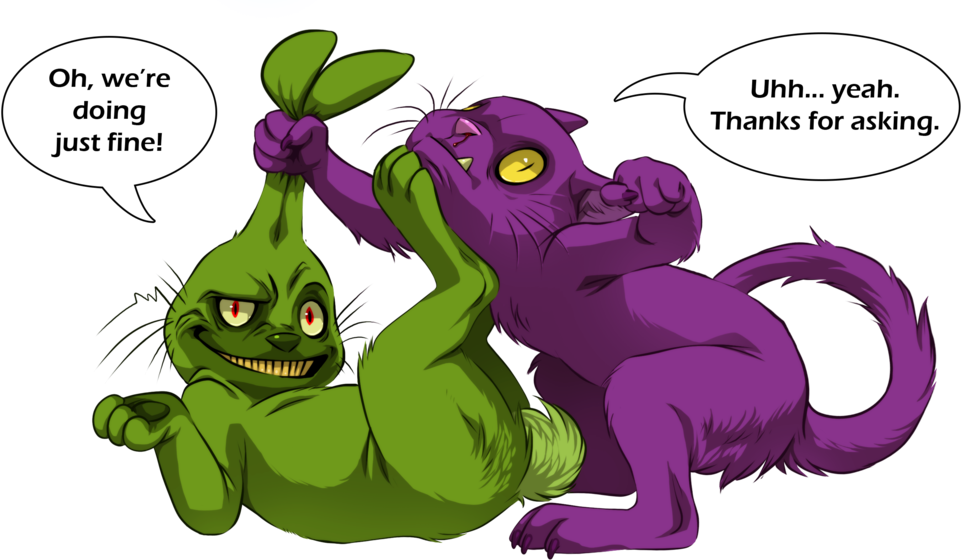 A revolution in digital comics
When future anniversary celebrations mark the release of Madefire Motion Book Tool, much will be made of "under-the-radar" revolution this event precipitated in the creation, production and delivery cycle of content distribution.
With the Madefire Motion Book Tool on deviantART the artist controls the full creative, production and distribution chain, making it possible to self-publish digital comics for free or for pay, in motion or static, with or without effects, episodic or periodic. But it is really any "book" form that has become liberated—the Full Spectrum Narrative comes to life. And fans are empowered as well to directly engage in the the equivalent format with their favorite stories.
A new dawn is breaking in the online digital and mobile comics world—and Madefire is leading the creative caravan into the new day.
Check Out Other Great Madefire Motion Books
Have you had to make hard decisions between pleasing those who care about you in your family and following instead your own path to achievement no matter how difficult your chances might be?
Who would you choose to have your alter ego or avatar befriend choosing between Anna & Kate's Pugbun & Tailcat?
Do you have an alter ego who can talk on your behalf. If you do, please place a picture in the comments?
Motion Books open up a new medium between storyboards and animation. What would be the perfect fit for this medium?